Who are we?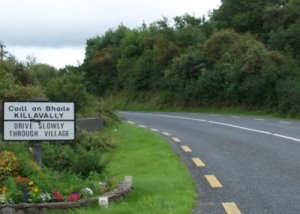 Killawalla, nestled in the outstretched arms of the Partry mountains, stands as a witness to a long history of song and story; of livings etched out from back breaking soil and determined minds; of families connected with loved ones across the sea and continents and newcomers who discovered our unspoiled rugged beauty..
Our villages with their Irish names, have their own rich histories, steeped in the past, grounded in the present and hopeful for the future. Our ruins speak of the dead, the emigrated and the famine-stricken.
Our stone walls and fences speak of an ancient craft that is ever new as they sweep down hillsides, along the hedges and become companions to our byways. Every field has a name; every home a story; every road an adeventure and every person a lifetime of experience.
Killawalla or Killavally (Irish Coill an Bhaile: Wood of the Homestead) is a village located on the Westport to Ballinrobe road (R330) about 7 miles (10 km) from Westport, Co Mayo, Ireland.
Saint Patrick is alleged to have passed this way en route to Croagh Patrick, and accordingly the local Catholic church is named after him. The village also contains a primary school, a post office and a pub. Killawalla is part of the parish of Carnacon and Ballintubber. Research carried out by NUI Maynooth showed Killawalla to have sustained the biggest population loss of any village in Ireland during the Great Famine. Between 1841 and 1851 the village lost two thirds of its population. Killawalla is also home to Pollatoomary cave, the deepest explored underwater cave in the British Isles. The cave was explored to a depth of 103m by Artur Kozlowski on the 5-6 June 2008. The entrance to the cave is located in the townland of Ballyburke on private land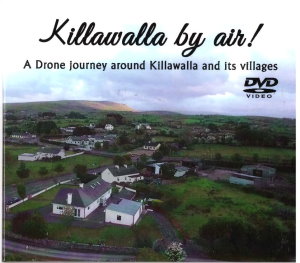 We travel the main roads from our homes to Westport, Castlebar or Ballinrobe. Rarely do we stop to explore the local and side road network that connects our villages together. If we do, it is from a bike, tractor or car seat.
The Killawalla by Air DVD is an opportunity to explore our communities with the help of a drone and its eagle eye camera in the sky. Explore our high ridged hills, our gentle streams, our busy bogs, our farming fare, our ancient artefacts, our breath taking views, our lazy lakes and happy herds.
Allow the drone to carry you from Dereendafderg to Derrew; from Kinuary to Killawullaun; from Killawalla to Killadeer; from Croaghrim to Cullintra; from Kiltharsechaune to Devlish; from Shraheen to Shrasascheen; from Ballyburke to Bohaun; from Glenmask to Gortbaun.
In your travels, stop off to watch the hay baling process with the help of a local songster. Visit Durkin's bog and see the turf hopper in action. Attend our annual August 15th Mass in Ballyburke graveyard. Take some time to drink in the peacefulness that surrounds our many lakes, rivers and streams. Experience the chill of a recent Killawalla snow and much more.
The hour long DVD is available in both PAL (European) and NTSC (American) versions at a cost of 10 Euro or 15 dollars. Postage extra. Email us!
Killawalla, Killawalla,
Killawalla of my dreaming,
All the hours night and day;
oh! the years in cheerless places
That I have spent in longings vain
But to see thy friendly faces
And thy heather fields again
But at midnight hushed and solemn,
When the winds are croaning low;
And the moon and stars are mirrored,
In the boglands ponds below,
And the Camoge like a chorus,
O'er the meadows murmurs by.
Then the peace of God is o'er thee
And his angel hosts are nigh
Killawalla poem by Poet John Gibbons, Hazelrock